This article first appeared in the Record of the Day weekly magazine, but can also be viewed online here.
Lawyers and accountants are traditionally singled out as the "bad guys" within the music business. Andy Edwards challenges this assertion, outlines what they bring to the table and offers suggestions of how get the most from your lawyer and accountant
"The music business was ruined by lawyers and accountants" is a well-worn line used by speakers at conferences, pundits and commentators alike. It may play well to the crowd, but the assertion is not backed up by facts.
The line is usually in the context of consolidation and corporate culture within the industry. It is just easier to label lawyers and accountants as the "bad guys", rather than the somewhat amorphous concept of "corporatisation".
The trouble is the line sticks in people's minds and induces either disdain or fear depending on whom you speak to. The recent Music Week 30 Under 30, aside from its lack of diversity, did not contain a single lawyer or accountant.
Where is the next Gavin Maude or Sonia Diwan? Where is the next Pat Savage or Lisa Morris? There are plenty of candidates out there both in-house and in private practice.
On the label side, it often seems accountants get overlooked, but when they do get the opportunity they can really shine. Island Records under the Ted and Darcus co-presidency was a joy to work with. Not only did the co-presidents compliment one another beautifully, they arguably had a third co-president in David Sharpe whose background in accountancy equipped him with solid operational and shrewd deal making skills.
It was no surprise to me when Darcus ascended to the sole presidency of Island and Ted took the reigns at Virgin, that David became COO for Universal overall. That is strength in depth in practice.
Lawyers have been far more high profile on the label side than accountants, many with larger-than-life characters and incredibly sharp minds. Paul Russell, who ran CBS Records, Sony Music and Sony Music Europe during the '80s and '90s is one such character, often referred to by rank and file as "Mr Scary", bear in mind his boss was Walter Yetnikoff then Tommy Mottola.
It was in the mid 2000s before I worked closely with Paul Russell at a music rights start-up. The pressure was on. He and I ended up having a massive stand-up row one day about a "stupid fucking deal". It was a one hell of a show down, but next day we sat down and like a true gentleman Paul gave me all the respect in the world as we discussed our differing points of view on the matter in hand. Paul was persuaded and everything was resolved.
The point being: learn when and how to pushback. Even the toughest of corporate lawyers can be swayed if you have the courage of your convictions and a reasoned argument. Paul Russell wasn't that scary, he even said "calm down, Andy, luv" at one point in his gruff voice, cigar in hand. We got there.
In artist management, lawyers and accountants play a huge role. Some have become managers themselves, such as Sarah Stennett or Anthony Addis.
There are no restrictions on who can become a manager. It really does take all sorts. You can be a former publicist like Andrew Loog-Oldham or a former merchant banker like Prince Rupert Loewenstein, both of whom managed The Rolling Stones. Andrew made them famous, Prince Rupert made them rich.
Whatever your background, for the benefit of your artist you need to learn to work effectively with the artist's lawyer and accountant. A good lawyer will protect and enhance an artist's interests. A good accountant will always save the artist money. A good manager will ensure both are well briefed and well informed and the whole team delivers great value to the artist as client.
A Christmas eCard from a law firm, full of creativity and humour!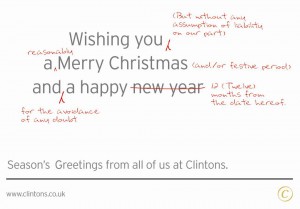 Accountants need to be involved in deal making from an early stage. They may not be driving the deal but they need to know what is going on. The deal must fit the artist's business structure and be tax efficient.
In a negotiation, some conversations are best handled lawyer-to-lawyer, at other times the manager should speak to the other side. Be clear with one another about what is happening and work as a team.
Depending on the politics of the situation, it may be necessary to play good cop/ bad cop. Very often the lawyer gets labelled "bad cop", not an easy role to play but it enables the manager to smooth things over with the other side while getting the right result for the artist. Sometimes I have played "bad cop" from the management side. What that really means, for me, is being firm and direct about whatever needs to be resolved, without too much drama.
A common accusation levelled at the professions is that they create work for themselves. If you think that is so, come up with a solution. In one instance I persuaded a major music corporation to reduce a 23 page boilerplate service agreement to a much shorter 12 page document before involving the artist lawyer. My argument was simple: the boilerplate was not appropriate to the situation and my counterpart on the other side was very accommodating. It saved the lawyer's time and the artist client's money.
Lawyers and accountants usually charge by the hour, so use their time wisely. By all means socialise, but on a business call keep things brief and to the point. If the Partner involves a Junior Associate, embrace that. It saves the client money and in any event the Partner will oversee the Associate's work.
Specialist music accountants and lawyers may charge higher hourly rates compared to general firms, especially those outside of London, but they almost always deliver better value. They understand the business, are more efficient and avoid pitfalls that a non-specialist might fail to recognise.
Most people are wise enough to use specialist lawyers, but I have seen major problems arise when non-specialist accountants have been appointed by music clients trying to save money. It simply is not worth it in the long run.
How do you find a good lawyer or accountant? Ask. Give me a call!